Looks like this event has already ended.
Check out upcoming events by this organizer, or organize your very own event.
New Date For: Second Annual Linchpins Celebration!

Wednesday, February 1, 2012 from 6:30 PM to 8:00 PM (EST)

New York, NY
Event Details
Change of Date To Wednesday, February 1, 2011

 

It's a busy holiday season and many of you are unable to attend tomorrow's event due to too short a notice and previous commitments.

 

We hear you so we're changing the date to Wednesday, February 1, 2012 (same place, same time).

 

Anyone who has already confirmed their reservation and paid the $5 contribution toward expenses will receive an email today asking whether or not they wish to keep their reservation or would prefer an immediate refund.

 

Best wishes to you and yours for a happy holiday!

 

Zorka Kovacevich & Sahdev Thakur

 
Linchpin entrepreneurs who are determined to grow a successful business know Seth Godin for his remarkable advice! 
Whether it's about creating an amazing business strategy or for mapping out a stellar professional career -- it all rolls down to two things:
being indispensable and shipping it!
Check him out if you don't know about him & find out why being a "Linchpin" must become your primary goal if you're determined to achieve a profitable, happier and more
rewarding life!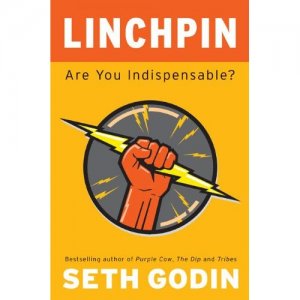 You Are Invited to Join Us For Our Second Annual Linchpins Celebration!
To Be Held At:
Sony Atrium
550 Madison Avenue
Between 55th & 56th Streets
New York, NY 10022
 "The Original Linchpin December 7th 2010-2011

Meetups Everywhere" 

Please RSVP ABOVE & Purchase Your $5 Ticket For This Event
Courtesy Refreshments Will Be Served -- Bring Plenty of Business Cards to Share.
Free Raffle Drawing with Remarkably Generous Prizes:
DONATED BY
&
Name Tags Will Be Provided!
Click Here For Additional Event Details
Where:
Sony Atrium, 550 Madison Avenue, New York, NY 10022
(Between 55th & 56th Streets)
When:
Wednesday, February 1, 2011
6:30pm - 8pm (Or later - it's a public venue and we can stay until closing time)
A generous gift from SETH GODIN has been donated: his AUTOGRAPHED vinyl LP, We Are All Weird (The Myth of Mass and The End of Compliance) will be raffled.
This is a new sealed rare collectible which is not available for purchase (you can only get it from Seth Godinand we got it!).
It's a limited edition copy (only 250 were pressed), and if you would like to learn more about it just copy the title into your browser and you will find many write ups about it.
AND.... another lucky winner will receive:
Professional portrait and wedding photographer MARK KUMAR has given us a gift certificate valued at $500 and the winner will have their social media headshot photo taken by him free-of-charge.
Mark is a talented and skilled photographer that we recommend highly.
To see fabulous examples of his work (please forgive my prejudiced opinion as you'll see why I say this when go to http://www.urlmk.com/290l7P).
MORE Details:
~~~~Name Tags will be provided
~~~~Courtesy refreshments will be served
~~~~Great conversation will be had!
~~~~Bring plenty of business cards to share and to enter the raffle
~~~~Capacity: Limited to only 30 attendees (maximum)
Admission: 
$5 with On-line RSVP
Or, $10 cash at door (Admitted only if seats are available)
Admission is charged to help with cost of refreshments and other out-of-pocket expenses.
 
Your payment confirms your admittance and helps us to ensure we do not exceed our maximum capacity limited to 30 Linchpins.
 

Sony Atrium is a public venue and we have verified with Sony management that we can hold our event there as long as we do not exceed this number of attendees.
How To Find Us:
Walk in off the street and look for our table with "Linchpins" sign.
About:
SETH GODIN: http://www.urlmk.com/ers8aQ
MARK KUMAR: http://www.urlmk.com/290l7P
THIS EVENT: http://www.urlmk.com/90Oipo
Thank you
&
for your generous support and participation helping to make our event a true Linchpin celebration!!!
When & Where
550 Madison Ave


New York

,

NY

10022


Wednesday, February 1, 2012 from 6:30 PM to 8:00 PM (EST)
Add to my calendar
Organizer
Zorka Kovacevich
As a Marketing Consultant & Networking Organizer I enjoy helping like-minded people with shared interests form live & online relationships in local communities around the world for sales-driven inbound marketing, networking, socializing, education & custom list-building purposes.




Here you will find a sample list of Meetup.com Networking Groups which I manage. Please feel free to join them: PINTEREST




To learn more about the affordable Meetup platform and how I can help connect  you to a new world of customers that will generate greater profits, options to contact me are below:

 



---
Zorka Kovacevich
"Delivering on the Power and Promise of Technology"
Marketing Consultant
Networking/Meetup Groups Organizer
Telephone: 1+ 347 291 1367
Email: Zorkakovacevich@aol.com
View My Calendar to Book an Appointment For Us to Speak at a Convenient Time:
http://www.snapappointments.com/listing/18l

Social Media Connect:

 Linkedin:
http://j.mp/ZorkaKovacevichLINKEDIN

 

Facebook:
http://j.mp/ZorkaKovacevichOnFaceBook

Pinterest:
http://pinterest.com/zorkakovacevich/

Twitter:
http://j.mp/ZorkaKovacevichTwitter